As a full-service septic company, we are your best choice in the area.
It might surprise you how many septic systems there are in the state of Florida– roughly 2.6 million of them! Incredibly, that is more than 10% of the nation's septic systems. When you consider that nearly all of our potable water is groundwater, it makes sense that care must be given when designing and installing septic systems, not to mention understanding the importance of maintaining them properly. It should come as no surprise that there are many regulations and rules pertaining to septic systems and also ones that every septic company must follow.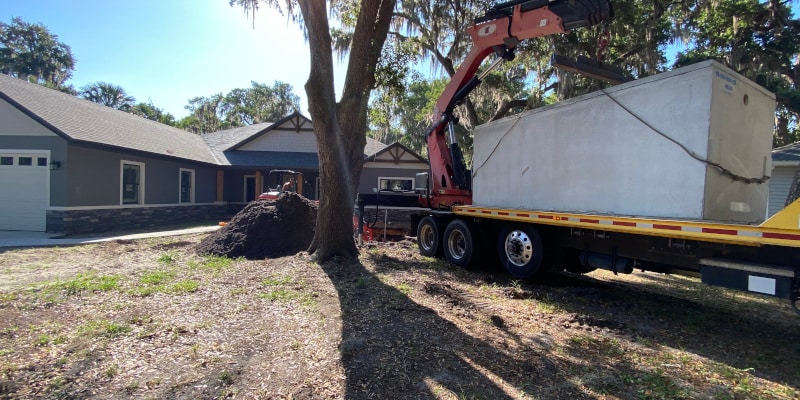 With so much demand in the Spring Hill, Florida area for a reliable septic company, it is also no surprise that there are plenty to choose from. While most will do a good job for you, provided they are registered and approved by the State of Florida, there are a few reasons why we believe we are your best choice. At Tampa Bay Septic, we are a full-service septic company. You'll fare better when your septic system is thoroughly inspected annually and any issues resolved before they become more serious. Since we handle repairs, as well, we can go ahead and take care of anything that becomes evident during our inspection.
Because our septic company handles septic system repairs and also septic system installations, you can have confidence that you will get an accurate assessment and honest recommendation about the best course of action. If a septic company only does repairs, they might be reluctant to tell you they cannot help you when replacement makes more sense. They might do the repair even though it doesn't resolve the problem. On the flipside, a septic company that only does installations and replacements might be reluctant to tell you that you only need repairs. Since we do both, no bias is involved, so there is no reason not to give you all the information you need so you can make an informed decision.
Another benefit of working with a septic company that does it all is that you can get valuable information regarding the proper care of your septic system. We are happy to share our knowledge with you about all components of your septic system so you can get the longest life possible and avoid messy backups and other problems.
If you would like to know more about what we have to offer as a trusted septic company serving the Spring Hill area, don't hesitate to reach out to us. We are available throughout the week to discuss your septic needs, and we are available 24/7 for emergency situations. If it has been a while since your septic system was serviced, give us a call to schedule an appointment for an inspection and maintenance.
FAQs About Our Septic Company
At Tampa Bay Septic, we made the decision here at Tampa Bay Septic to do our part to preserve the quality of water in the Spring Hill, Florida area by being the best septic company we can be. Keeping wastewater from leeching into the soil is critically important, so we welcome your questions about how to do your part to protect the environment. Here are some common questions we have been asked as a reliable, high-quality septic company.
How often should I call your septic company?
It is better to err on the side of too frequently than it is to run the risk of waiting too long to have your septic system serviced. With our septic inspections and maintenance, we can help you avoid contaminating the groundwater and having a messy backup inside your home. An annual inspection is recommended for optimal protection.
Why might I need emergency service?
We offer 24/7 response for emergency situations, such as a major septic backup into your home. We can also help you avoid this with regular septic services.
Why should I choose your septic company to handle my septic system?
Not all septic companies out there offer full service like we do or care about putting your best interests first. Many won't even provide a free evaluation like we do. We will go above and beyond to ensure you are completely satisfied with our services. Try us and you'll see!
---
At Tampa Bay Septic, our septic company is proud to serve Tampa, Brandon, Clearwater, Palm Harbor, and Spring Hill, Florida.
Similar Services We Offer: